Our rare approach to recruiting is saving business owners time and increasing their chances of success in hiring.
There's no reason why you as a business owner or executive should be doing all the recruiting and hiring. You don't have the time or want to use it for other critical operational activities. In our recruiting services, we serve as an outside resource for leadership, providing talent-centric advisement for internal processes or as dedicated recruiters to perform searches when needed. We save your staff, management, and executives time and heartache when it comes to challenges with hiring.
Our recruiting service simply means...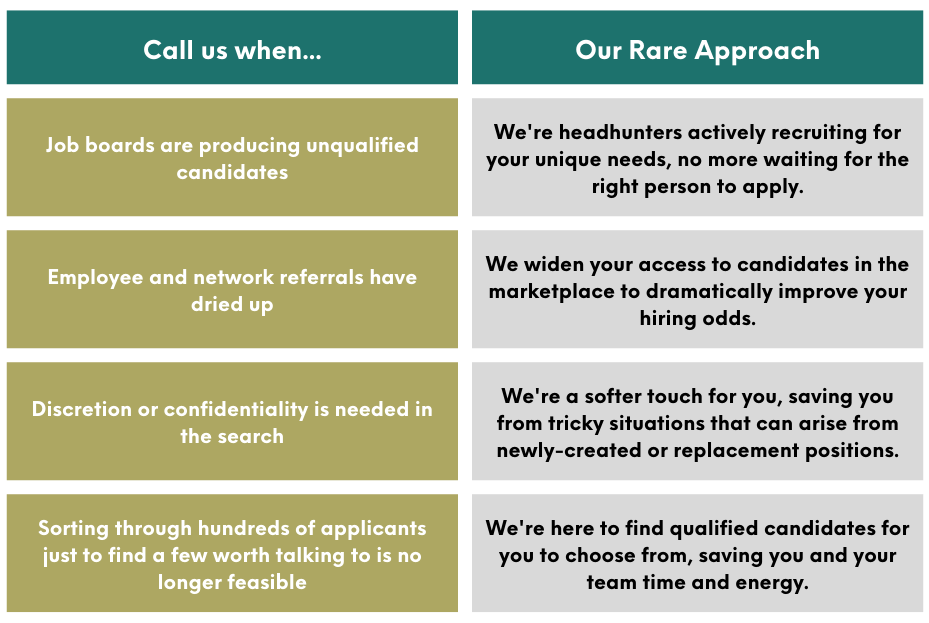 We work on your behalf so the first step is to get to know each other. We start with an introductory meeting with leadership to learn about the company's history, operations, culture, people, and growth plans.
​
Then...
You tell us what you're looking for.

We find you qualified candidates to choose from.

We schedule your interviews and guide you through the offer stage.

You call us when you're ready for your next hire.
No more spending your time...
Posting position openings to job boards only to be disappointed by the applications

Spending thousands on ads to promote your posts with dismal results

Surfing through droves of unqualified applicants

Tapping your exhausted network for yet another hire

Scrolling through LinkedIn profiles just trying to get a connection or response

Trying to figure out how to perform a search in stealth mode because discretion is needed
Are you ready to stop spending valuable time looking for the right hire on your own?
Have an internal recruiter or recruiting department? We can still help. Let's talk.
"When Quandary was looking for a select candidate and struggling to find the right fit, Iridium was able to quickly find us qualified candidates. In fact, we extended offers to two."