Our rare approach to HR is saving business owners time with on-demand services and the flexibility to only pay for what you actually need.
There's no reason why you, as a business owner or executive, should be doing HR. You don't have the time or would much rather use it for other critical operational activities. In our on-demand HR consulting service, we serve as an outside perspective and strategic resource for leadership, providing dedicated support when needed. Since people-related challenges are often unpredictable, we give you the flexibility of only paying for what you use.
We only want you to pay for what you need. Our on-demand service simply means...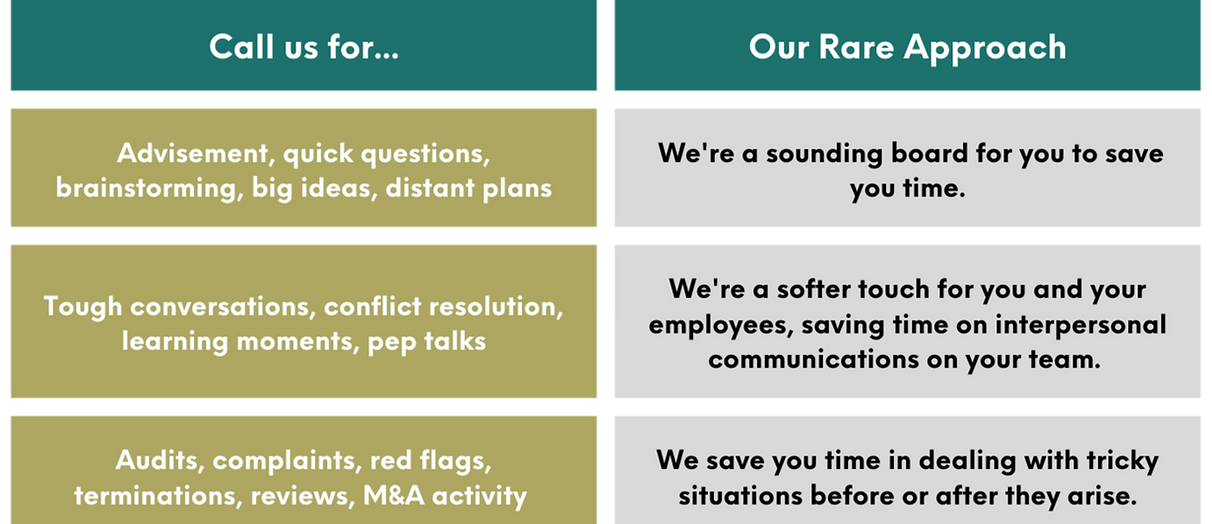 We work on your behalf so the first step is to get to know each other. We start with an introductory meeting with leadership to learn about the company's history, operations, culture, people, and challenges.
​
Then...
We're here for all of the above.
​
No more spending your time...
Reactively responding to unexpected situations without help or guidance.

Researching whether or not the information you have is correct or applicable to your company.

Surfing the web for answers to HR questions or document templates.

On hold with a generic call center representative that can't really answer your specific questions.

Trying to make consequential decisions with only a helpline, software service, or payroll provider as a resource.

Developing plans for the future without any people-related perspectives specific to your business.
Have people questions and no HR team? We can help.
Have in-house HR but still interested in an outside perspective? Let's talk.
"I can honestly say that Iridium is exceptional and go above and beyond in their efforts to help guide their clients. They are passionate about what they do and it shows."
- Executive, Energy Startup